Directory
of
Basketry
Features
Curry & Gibson Baskets
<!Right hand column>

---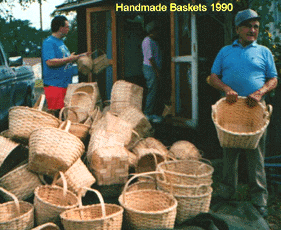 Linda Curry Warner of Sacramento, CA writes......
My Great Uncle Denver "Tutor" Gibson is a descendant of Christopher Columbus Gibson. His brother was George Gibson. The Gibson family are famous for their basket weaving. They made baskets from White Oak trees, they'd cut down by hand and hauled from the mountains. They cut and stripped the logs with their handmade tools. They made the slits and created the woven baskets. They taught the Curry family to weave the baskets. Denver died this past year, still making baskets. If he wasn't making baskets, he was playing his fiddle. Denver was the the last of the Great Uncles (Gibsons) to be making the baskets. This picture was when I visited him in Fayettville, Arkansas in 1990.
I have quite a history of our family of basket weavers. My great grandfather was taught by an Indian woman who was blind. His name was Christopher Columbus (Lum) Gibson. They made baskets out of White Oak trees from the hills of Arkansas around Washington County area ...(Fayettville)... He taught his sons, John, Tutor, Bill, and George to make baskets. They taught their kids and on down the line. My Grandmother was George Gibson's sister, Nancy Gibson, who married James (Bud) Curry (son of Nathan Curry...Fayettville) ...and the Gibsons taught my dad and his brothers (Willard ..my dad..and his bros, Jess (some called him J.J. or Red),Wilbert, Claude, and Glen Curry. My father Willard taught my mother Kathryn Lawson Curry. They sold baskets all up and down road in Arkansas and Missouri. I would like to locate any baskets made by my father and mother (they used to bottom chairs etc also). They used to have a shop on highway from Greenland to West Fork, Arkansas. They would go to hills, pick out a tree, cut it down, haul it out, load it on a truck, take it home, "split" it (in pieces) .....then shave bark off it and shave strips they needed. They made their own tools and handles for baskets that are very recognizable. My cousins to this day are still making baskets as well as my Uncle Wilbert and Uncle Glen and his son Larry Glen Curry. My Uncle Claude & Aunt Norma also still make them. My cousin Roger Curry made a video on how to make these baskets from step one..going to get tree...that's very interesting. The only actual documentation of the making of the Curry/Gibson baskets that I know of. I have old news articles & pictures of them with baskets...from long ago..as far back as my great grandfather "Lum". My family moved to California, and the White Oak Trees weren't plentiful out here therefore they quit making the baskets (my father and mother). In later years they divorced and my father went back to Ark (Fayettville) and started making baskets and laying rock. He was quite a rock mason.
There may be people all across the country who have bought baskets made by Uncle "Tutor"....or other members of the Curry or Gibson families. I'd love to hear from these people....their messages would be added to our families genealogy.

---
Text and Photo Copyright © Linda Gibson Curry 1990-1999
Original graphics © Susi Nuss
---